What's left is the things that touch us or interest us most – the top 30%. Unfortunately, we need to know more than a third of a foreign language to be able to speak and understand it fluently, just as one must retain a certain amount to play a musical instrument or to pass an exam on school.
The percentages mentioned above were tested and proven by the German philosopher Hermann Ebbinghaus (1859 – 1909). In an experiment, subjects examined a list of 15 fictitious syllables, such as NAK, DIB or DAF. At different points of time afterwards, he tested how much they could still remember und reproduce.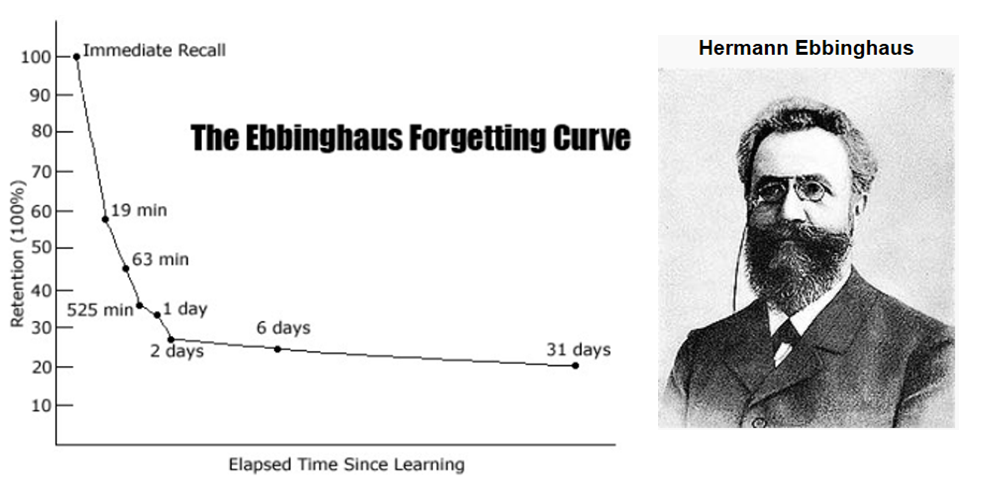 The result: people forget the most within hours. Within the days that follow, the retention curve flattens.
Ebbinghaus also tried to influence the power of memory. He discovered different influential factors, such as prior knowledge, talent, interest, context of learning and emotional factors. The neural synaptic speed, which is responsible for how fast your brain works, also influences your personal forgetting curve.
The above factors contribute only a little to the curve's deviation. The only way to keep as much as possible is an idea established by the Latins: "Repititio est mater studiorum" (repetition is the mother of studies).