Would you like to learn a foreign language? Perhaps you already have our Brain-Friendly language course for brain-friendly and faster language learning? This article will help you get started and effectively plan your learning exercises.
My Goals
Before getting started, it's of the utmost importance to set your learning goals. What would you like to achieve? Brain-Friendly describes targets as "learned words". Every language course (for computer, smartphone, tablet, etc.) includes a word counter. As soon as you understand one of the words, you simply click on it. This way, the translation is hidden and the word counter increases. This word pool covers all lessons in your course, so you only need to collect the words once.
Set Your Target
This is what you can base your goals on:
300 unique words – used for basic communication in everyday life and while traveling
600 unique words – you will understand the majority of every-day communication. In comparison, a daily newspaper uses only 500-500 unique words.
1,000 unique words – you can understand 90% of all text in the foreign language. Technical vocabulary and literacy are excluded.
Timing: When You Achieve Your Goals
Set a deadline for when you want to achieve your target goals by, or choose how much time you would like to spend on learning every day.
Example: Practicing for 10 minutes a day helps you achieve a word pool of 600 unique words within 20 weeks.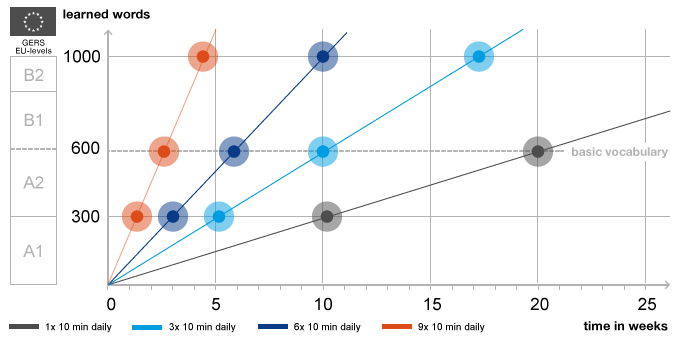 Your Weekly Learning Plan
Now it's time to write down your weekly learning plan. It could look like this one:
We set up 3 units with 1-3 sentences per lesson (colored in orange, light blue, and grey). We recommend that you highlight the sentences in the learning program and to play it on a continuous loop. At the end of the week, you will understand 9 sentences of text and be able to speak, use, and write it yourself.
Weekly Plan: No Need to Cram
Is your weekly plan starting to overwhelm you? If the answer is yes, you can drop the activities highlighted in light blue. If it is still too much, leave out another unit. Either way: repeat everything three times!
This is because we forget about 40% of what we hear or learn after a mere 20 minutes. The more often you repeat a unit, the better the chance of retaining information long-term.
Deviation from the learning plan: If you cannot make it on either day, catch up on the next day, or simply take some more time to achieve your goals.